SEBASTIAN SIEGEL: A Look at SARGEANT SHRIVER
Sebastian Siegel is a British-American actor and filmmaker. This season after playing a villain on HAWAII 5-0, Siegel produced the pilot for a new comedy series, JUST BE YOURSELF, written by Stuart Davis and starring Kandyse McClure. He's developing the screen adaptation based on the true story of Treya and Ken Wilber as chronicled in the book GRACE AND GRIT. Siegel is a supporter of The Smile Train, Best Buddies International, Walk on Alzheimer and Make A Wish Foundation.
By: Sebastian Siegel
---
This man, who I believe would have made an extraordinary President, inspired me in the way he wielded his focused vision and fierce determination with grace and charm throughout his lifelong commitment to enriching the lives of others. From creating the Peace Corps, founding Legal Services for the Poor, Job Corps and Head Start, leading the War on Poverty, to advising U.S. Presidents, internationally developing the Special Olympics, and creating other agencies and programs to serve underprivileged, hungry or homeless individuals - Sergeant Shriver selflessly dedicated his life of humanitarian endeavors with uncompromised enthusiasm.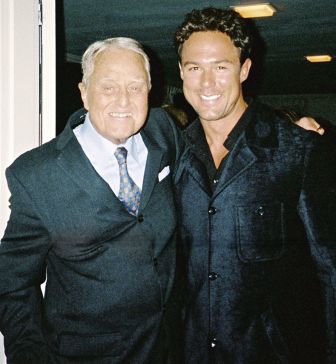 During his prolific career, Shriver sacrificed his own agendas to greater causes. He was an early opponent in the United States involvement in World War II. Yet from his sense of duty, he volunteered for the US Navy and served with distinction. This exemplifies the pragmatic application of integral thought that made him the strong voice he was on behalf of the countless lives he influenced. I heard Arnold Schwarzenegger quote him in a way that so clearly embodied the man's personality: "Tear down the mirror in front of you, the one that makes you look at yourself, and you will see the millions of people that need your help."
We met shortly after Sergeant Shriver had just begun being affected by Alzheimer's. Despite that challenge, we shared laughter and stories at his home in Hyannis Port, and his character shone through in his sincerest interest in others and in his abundant life force. He deeply exemplified the characteristics that serve as the prerequisites for any individual affecting the world in wonderful ways - "Being accused of enthusiasm is something I'll never live down."
Sergeant Shriver passed on January 18, 2011, at age ninety-five. President Barack Obama said, Shriver was "one of the brightest lights of the greatest generation." Bill Clinton added, "In my lifetime, America has never had a warrior for peace and against poverty like Sergeant Shriver." His family relates, "He was a man of giant love, energy, enthusiasm, and commitment. He lived to make the world a more joyful, faithful, and compassionate place."